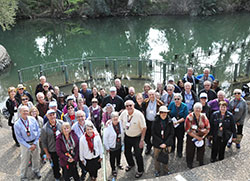 From Natalie Hoefer at
The Criterion:
After 11 days on the archdiocesan pilgrimage to the Holy Land, I believe that were it not for the presence of the Franciscan order as pilgrimage site custodians, the Christian presence would all but evaporate from the region.

For centuries, the Franciscans have maintained the properties of numerous shrines, chapels and churches in the Holy Land, making them available for pilgrims to visit for veneration, prayer and spiritual renewal.

So what can we in central and southern Indiana do about the situation for our brother and sister Christians in the Holy Land?
Read the rest of the story here